The Inequity of Our Nation Still Persists
Seattle Faze Editor - Nicquitta Brooks
Those who lost relatives and friend in the disaster in New Orleans are somewhat of a testament to the fact that inequality still exists in this country.
We saw the poor response time in handling the situation, which it is my feelings as well as many of those across the nation. That had it been the white upper and middle class, time response would have been immediate.
We are just now seeing aid and assistance to many of the victims and although the nation's disaster relief fund has been allocated over 200,000,000 dollars, there are many who have yet to feel the help that money will bring.
People who have lost homes are still at a loss of where to stay and bodies decompose underneath piles of rubble without means to quickly dispense the remains.
With politicians concerned more about public images than with the homeless stranded by the horror of the hurricane's wake, it is now apparent that Black and the poor suffered the greatest in the aftermath of Hurricane Katrina.
Those with the means to escape and avoid the storm were the best off. Yet the poor and disenfranchised peoples of the area are only now beginning to find they have all but been discarded by a nation that holds little respect for them anyway.
Only now weeks later, are the troops rallying to find and dispose of bodies that have lain unattended for weeks under the flood waters or debris of the disaster. Only now are centers being secured that will be enabled for the homeless to have decent shelter after being displaced from homes they've had, for some a lifetime.
Now there is word that the money allocated will come to rebuild a city destroyed, not unlike a territory that's been through a catastrophic war.
Where are we as a nation, when we send millions of dollars across the waters to starving children and countries in need and cannot quickly dispense assistance when our own are in danger?
Does America really not care about its poor? Do we still harbor ill feeling toward those less fortunate than others?
What's a world to do?
PEACE & BLESSINGS
5 strategies for surviving a layoff
The news is a shock, even if you suspect a pink slip is coming your way. Here, a financial adviser offers guidance to a recently laid-off Boeing worker -- on handing finances, a job search and a bruised psyche.
By Melanie J. Mavrides
A pop quiz: If you got a layoff notice today, would you:
A: Feel like crawling under a rock?
B: Be so angry your blood pressure would shoot through the roof?
C: Brush aside your misfortune as a blessing in disguise?
Chances are you'd have mixed emotions. After the initial shock wore off, you would need to right yourself financially and emotionally, says Helene Robertson, a Seattle financial adviser. She is advising a former Boeing employee, Eric, who was recently laid off from Boeing, the mammoth airplane manufacturer.
Eric, who is 46 and single, wasn't entirely taken off-guard by the layoff. He knew that Boeing was planning to cut up to 48,000 jobs over the next two years because of a sharp decline in jumbo jet orders. As a contract employee, he knew his job wasn't as safe as that of a permanent employee. Still, he wasn't totally prepared.
To deal with a sudden job loss, Robertson suggests that Eric and others in similar situations consider five strategies to cope:
Get your financial house in order. Figure out your monthly expenses and how you're going to cover them for the next six to 12 months. If you don't have an emergency cushion to cover your expenses, Robertson offers a few ways to raise money.
Schmooze or lose. You usually have 60 days notice before the ax falls, so don't lose this opportunity to network before your last day on the job. Hand out resumes. Meet for informational interviews. Get your name out there for part-time work.
Be a realist. Eric has always wanted to work for a nonprofit animal rights group. He needs to explore this idea but with a dose of realism. If he follows his heart and takes a pay cut at age 46, exactly how will that affect his overall life goals?
Determine the long-term financial impact. Is your portfolio poised to weather an economic downturn? Eric is not sure how the layoff will affect his goal of retirement by age 62.
Stay upbeat. You're feeling rejected by the layoff, and it's hard to wear a happy face. But beyond primal screaming, what choice do you have? Try not to take the job layoff personally and get to work on your rebound strategy, the adviser says. Studies show that job hunters with a glass-is-half-full approach get jobs more quickly.
Robertson used these steps to help Eric plot a strategy. The moves she suggested include getting a handle on his finances, diversifying his portfolio and making the most of a job hunt that won't drive him crazy.
Here are the details of Eric's reality check.
---
Name: Eric, age 46. He has two Balinese cats named Katharine Hepburn and Spencer Tracy.
Home: Seattle
Income: Before the layoff, Eric earned a gross salary of about $50,000 a year. His net monthly paycheck was $3,200. (He worked as a scriptwriter and multimedia expert.) Post-layoff, he gets about $1,500 after taxes from unemployment benefits.
Assets: His net worth is $364,000. He has about $220,000 in investing accounts, including $35,000 in savings. He has about $89,000 equity in his two-bedroom condominium with a market value of $185,000. Other assets include a cash-value life insurance policy of $5,000, and a 1998 Honda Accord coupe valued at $15,000.
Liabilities: he owes $96,000 on his mortgage, which carries a 7.87% interest rate on a 30-year fixed loan. He has no other debt.
Monthly Expenses: $2,908. They include: $900 for mortgage, $600 for groceries, $50 for utilities, $80 for business and home phones, $120 for long-distance calls, cell phone use and Internet access, $100 for car insurance, $50 for homeowners insurance, $25 for disability insurance, $300 for health insurance, $400 for entertainment costs (including eating out and movies), $333 a month for out-of-pocket expenses, including alternative medical expenses.
Lifestyle
Eric's condo is a block from a desirable, beachside area of Seattle. After having the time to stroll along the water's edge and taking in the breathtaking views of Puget Sound, he says it's hard to consider "working in a cubicle again."
Eric's brother died a year ago and left him a substantial inheritance that will help him during the layoff and beyond, the adviser says. "I don't like how I got it (the inheritance), but it gives me flexibility now," Eric says.
---
Adviser's recommendations: Get your financial house in order
Many people don't think of building a rainy-day fund until they need one. If you don't have three to six months saved to pay your bills if a layoff or other emergency strikes, you may want to consider doing so.
Here are some ideas -- and a warning -- about getting your finances in order:
Collect unemployment. Determine immediately whether you're eligible to collect unemployment benefits. Calculate how long payments will last. Eric can collect about $1,500 after-tax dollars a month for six months.
Tap a money-market brokerage account. You or your financial adviser may have set up a money market or other savings vehicle in your brokerage account. If you have one, find out about check-writing privileges.
Consider a home-equity loan. Homeowners could consider taking out a home equity loan "if they are really desperate," the adviser says. The loans are tax deductible and often carry a relatively low interest rate.
Be wary of get-money-quick schemes. Using credit cards may be tempting. But with the average annual percentage rate of 15% on cards, debt can mount quickly, she says. Another bad idea: Robbing your retirement accounts. You'll pay taxes and a 10% federal penalty. The result: You'll lose 40 cents on every dollar you withdraw.
Once you've figured out how much cash you have on hand, determine your monthly expenses. Back-of-the-envelope calculations won't do, the adviser says. You need a fairly precise estimate on your spending habits to plan ahead.
Nitty-gritty budgeting
Budgeting isn't much fun, but the key to success is keeping it simple, Robertson says. Sit down and get a handle on your fixed expenses (recurring bills such as mortgage, utilities, car insurance) and your variable and discretionary expenses (including entertainment costs, clothing, gifts).
Then cut frivolous expenses. Eric, for example, eats out several times a week, and he enjoys concerts and movies. During a no-income period, he needs to pare back these outings and, perhaps, replace them with free entertainment such as "open mike nights" or potluck dinners with friends, the adviser says.
With egos bruised a bit, newly laid-off workers still need to treat themselves. Just don't go overboard, the adviser warns. Your unemployment days may linger longer than you anticipate.
Schmooze or lose
Most workers have several weeks before their last day. If you're still on the job and awaiting pending layoffs, make sure you work your contacts. That can be a vital difference between those who return to work quickly and those who languish for months. "It's who you know more than luck," she says. More often than not, it's a person's knack for schmoozing (Yiddish for informal chit-chat) that pays off, the adviser says.
Well before your last day on the job, put your best foot forward. Ask yourself:
What are my job skills or core competencies? Where in the company could I be transferred?
How can I market myself to hiring managers, without being a pest?
Does my company have an internal Web site that posts jobs or explains projects underway?
Will any prospective hiring managers conduct "informational interviews" with you?
To whom should I send my updated and polished resume? "Don't forget to follow up with phone calls," Robertson says. "Be persistent."
Networking is critical for the soon-to-be-displaced worker. Keeping a contact list of people of influence, or of projects you may qualify to work on, is a great strategy. If you're a full-time worker with benefits, propose working as a freelancer or vendor before your last day on the job.
Be a realist
You've networked wisely. But you have a dream of starting your own business or changing professions. For many people, a job loss can resurrect all sorts of hoped-for jobs you've never had time to consider.
"It's a time of reflecting, for asking, 'What do I really want to do when I grow up?'" Robertson says.
Her advice: Don't make rash decisions. Before you decide to ditch your career path to become a lion trainer, stop yourself. Taking a lower salary may impede your other life goals such as retirement, she says. Also, if you've decided to change careers, evaluate the costs of retooling yourself and whether it will pay off in the long run, she says.
To gain clarity, try this exercise: Draw three columns on a sheet of paper. In the first, write down your life goals. (They may include retiring at 60, traveling the world, learning how to make pottery.) In the second, jot down several dream jobs. In the third, write down all the jobs you can actually be hired for. This exercise may help separate what looks doable from the outlandish.
"You'll want to jump for the stars, but only the ones you can reach," Robertson says.
In Eric's case, he's always toyed with the idea of working for a nonprofit that focuses on animal advocacy or environmental conservation. He'd likely take a pay cut, the adviser says, and he'd have to be willing to put off retirement or live on a lower salary.
Her advice: If Eric opts for a lower-paying job, he should at least try to find one with decent health-care benefits and a strong retirement savings plan, she says.
Determine the impact
How will the layoff affect Eric's goals? Luckily, he has about $35,000 in cash reserves in his Boeing Credit Union savings accounts, which pays 2.5% interest. He's also collecting $1,500 a month in after-tax money from unemployment benefits. But the benefits only last for six months. And since his expenses are about $3,000 a month, he'll have to draw on savings to pay the bills.
The bottom line: If Eric doesn't get another job within 15 months, he will have used up his emergency cushion and unemployment benefits, the adviser says.
At his age, Eric still needs to stash money away to retire by 62. How much? Consider the following:
If Eric wants to fully retire by age 62 and he doesn't contribute any more to his retirement investing -- he's currently has $225,000 in investing accounts -- he'll run out of money by age 76. That assumes a 9% annual rate of return, the adviser says.
If Eric wants his money to last until age 90, he'll have to start saving and investing about $900 a month starting now, the adviser says. That assumes an annual rate of return of 9%. If his portfolio gets 11%, his money won't run out until age 100, she says.
Saving $900 a month or $10,800 a year for retirement isn't ambitious if you're employed and your company offers a strong 401(k) plan with some matching dollars, Robertson says.
If, however, Eric continues to free-lance or to do contract work with no benefits, he may want to consider setting up a tax-deferred SEP-IRA or a KEOGH to save for retirement. (He can invest 13% of his self-employed profit into a SEP IRA or 20% of his profits in a KEOGH, Robertson says.) He can save another $3,000, tax-deferred, in a Roth IRA, as long as his net profits are under $100,000, she says.
To earn the best returns on his portfolio, Eric needs to diversify his investments, Robertson says. Currently, he's invested in mostly U.S. large-cap stocks and funds. The portfolio has lost about 38% of its value in the past year. And it's only yielded an annual rate of return of about 8% over the past three years, she says.
"His risk quotient is about double the return factor," Robertson says. "I want the return to be at least double the risk factor."
Robertson's recommendation: Adopt an investment strategy to spread out across a variety of investments with varying degrees of risk. She would reallocate Eric's investments this way:
30% in large-cap value funds,
35% in large-cap growth funds,
10% in small-cap value funds,
10% in small-cap growth and value funds,
15% in mid-cap value and growth funds.
Spreading out his risk will allows Eric to create a portfolio that delivers a steady return, she says. In addition, she wants him to invest entirely in mutual funds because "Eric doesn't have the energy to manage his investments, so he shouldn't have individual stocks."
Robertson recommends that Eric keep the following equities:
She recommends that he dump the following equities:
Stay upbeat amid the transitions
Finally, keep your chin up, Robertson tells Eric. One of the most common reactions of a newly laid-off worker is to take your company's downsizing personally. It's just business, she reminds him, and he's not the only guy losing his paycheck.
Eric could also form a support group of newly laid-off peers to share leads, to offer support and to review each other's resumes, she says.
There's nothing worse than cabin fever to get you down. So get out of the house. Hang out at a coffee shop or a library to do your job-hunt strategizing. A change of scenery -- and a little caffeine -- may be all you need to renew your energy, she says.
Follow-up
Eric says he was thankful for a fresh perspective. He recently refinanced his mortgage, which shaves $250 off of his monthly payment. He's also exploring jobs at several non-profit and for-profit agencies that focus on the welfare of animals, he says.
"The day after I left Boeing, I felt a personal rejection," he says. "But it is far outweighed by a feeling of opportunity and potential."

---
About the adviser
Helene Robertson
, a Seattle-based certified financial planner and registered principal, is owner of Helene Robertson Investing, a fee-only financial planning firm. She has been an adviser since 1981 and she specializes in socially responsible investing. Robertson works through the National Planning Corporation based in Santa Monica, Calif.
JUDGE'S GAVELS SWINGS TOO FAR LEFT IN DOMESTIC ISSUES
Abuse, Not Just a Female Problem
Imagine a comfortable idyllic family dinner, all gathered to celebrate the end of a terrible ordeal. A woman with a protection order against her, and angry about it.
A man hurt that it had to be done, outwardly jovial, inside wrestles with whether he did the right thing against an alcoholic wife... when a knock comes to his mother's door.
It's the Police come to arrest the man for a threat he never made, from a call place by that angry alcoholic wife. Now this idyllic setting, disrupted by the intrusion, must bear the humility of a son's arrest and incarceration, and hope that when the facts are learned, justice will prevail and the man will be set free.
Not in Washington State.
The "System" taking the females word on the accusation, places the man in custody, held 72 hours until a kangaroo hearing finds probable cause, despite an Order of Protection against the woman, who called from a place she was restrained from, and using a phone she was not suppose to be on.
Now the man sits in a jail cell for an erroneous charge, awaiting trial for something he did not do, while verifiable witnesses wait and watch as this screenwriter businessman loses money daily, and worries about possible property damage by the angry and vindictive female still holed up in the couple's residence, disregarding a court order.
How can Washington Justice be so unjust?
How long will Washington law be slanted in favor of one gender, where males can be victims of abuse and harassment much easier than the other?
How long will Washington Officers of the law be permitted to take the ranting of a woman drunk, casting dispersions over the sober honest protestations of a hard working male?
With discrimination being removed from the workplace, from our organizations and a combined goal of removing it from out society altogether; when will we ever see it removed from our legal system... or at least here, in Washington State?
Having undergone 63 days of humiliating injustice at the hands of a state biased toward women in domestic abuse cases, I find myself angered and dismayed by a system that would allow such discriminatory practices to continue.
What I thought would only be a matter of days to determine the truth lasted two months!
Were this a case involving a woman accused of the same crime, it would have been settled in no time at all and the woman may have not had to spend one day incarcerated and probably could have found cause to charge the male for her lost time.
Such is how justice is dealt in a state that has come to be known as "The Female State," and any male even suspect of a domestic offense is automatically believed to be guilty. No other state in the union has such a reputation, and no where but Washington do males suffer the affliction of angry vindictive female having the power to have a male thrown in jail on just a verbal accusation.
We need to change this outmoded way of thinking and method of operation in these Washington States by initiating legislature and creating a new charter of behavior and established law regarding any and all proceedings that involve the domestic tranquility of our Evergreen State of Washington.
Applicable to these issues the document, "Manifest Charter of Domestic Tranquility in Washington" that addresses the matters first hand, shall be sent to all and any responsible heads of state, city government and legislative board until a review and restructure of these biased and discriminatory feelings and practices have been abolished and eliminated and Washington State has been transformed into the Equal Constituency it should be. The way its original lawgivers intended it to be.
It is my hope that by finally standing up against an illegal and unjust formality of law, that those laws that justify wrongful prosecution, be nevermore upheld in Washington State or anywhere, and that Equal Justice Under the Law regains it meaning again to those who called themselves Human Beings.
On December 29th 2004, the writer of this article placed an Order of Protection against his wife restraining her from their shared residence. She promptly violated that order by returning and locking herself in the home and calling the police with a false accusation against the author, and he miles away from the home, was arrested on these false charges and was detained 63 days despite witnesses and evidence supporting his innocent. He has since been exonerated and the case was dismissed.



HIV/AIDS Affecting Our Community and World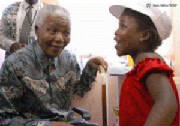 This is a picture of Nelson Mandela talking to a child who is receiving HIV/AIDS treatment at the Medicines Sans Frontiers (MSF) funded Khayelitsha clinic in the Cape township of Khayelitsha, South Africa. (Taken from AVERT.com - AVERT is an international AIDS charity)
The first case of AIDS in Washington State was diagnosed in 1982. By the end of April 2005, a cumulative total of 11,056 cases of AIDS have been reported. Of these people, 5,944 (54%) are known to be dead. In addition, 3,994 cases of HIV infection have been reported for a total of 15,050 HIV/AIDS cases. (Washington State HIV/AIDS Surveillance Report—Washington State Dept. of Health)
In 1994, my father (Don Richard Brooks) passed away from AIDS (. From my understanding he never disclosed this information to our family until my mother was infected by him. Meeting my father 3 years prior I did not understand as I do now the seriousness of this issue which is affecting millions of people all over this world. From my understanding my father was into drugs and had contracted this disease from his destructive social interactions. When I first learned my mother was infected I was eleven or twelve years old. I was not affected when she told me the first time until I was later reminded as a teenager. My first thought was I hope she doesn't tell anyone, what "my friends" are going to say and a whole bunch of other questions cross my mind. I didn't even think to ask my mom what she was going through.

With stigma, repression and discrimination individuals affected (or believed to be affected) by HIV are being rejected by their families, their loved ones and their communities. Societal rejection of certain social groups (e.g. 'homosexuals, injecting drug users, sex workers') may predate HIV/AIDS, but by blaming certain individuals or groups, society thinks it can excuse itself from the responsibility of caring for and looking after such populations. This is seen not only in the manner in which 'outsider' groups are often blamed for bringing HIV into a country, but also in how such groups are denied access to the services and treatment they need. Many of us who stigmatize, repress and discriminate do so being afraid it will confirm our irresponsibility in getting the knowledge that's out there about HIV/AIDS.

As the years are passing there are more and more new HIV infections reported which shows people either aren't learning the message about the dangers of HIV, or are incapable or reluctant to act on it. Many of us are dangerously ignorant about the virus yet education is an essential part of preventing the spread of HIV (Human Immunodeficiency Virus—the virus that causes AIDS). The Centers for Disease Control and Prevention reported 929,985 cumulative diagnosed cases of AIDS, through December 2003. Of these, 524,060 people or 56% are deceased, between 850,000 and 950,000 people in the U.S. are estimated to be infected with HIV. People newly infected with HIV in 2004 estimates 4.9 million throughout the world.

I have grown to understand the importance of protecting one's self for it is my decision to ensure I am protected from any and all disease(s). It is also important to be regularly tested (at least twice a year) regardless of the fact protection is used or not. I will not believe anyone would intend to give this disease to another. Yet some of us are irresponsible in our sexual endeavors not protecting ourselves and our lovers, partners, wives, husbands, literally strangers. We must start and continue to protect ourselves. For if we don't protect ourselves, who will?!

(CONTINUED NEXT ISSUE)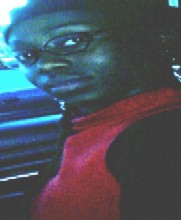 This article contributed by the Editor/Publisher; Nicquitta Brooks
My DNA.com All your questions about AIDS answered here.
UBER THE RAINBOW
By Faze Publisher Bobby Fleeks
Well fellas, now we got another terminology to deal with when it comes to male sexuality.
The Ubersexual male. Which is in fact, nothing more than being a guy's guy. Remember Sean Connery, Clint Eastwood, Al Pacino? Well it seems that women have had it with the Metrosexual image and the pacified men of the 80's and 90's and now they want us to return to the real male image of yesteryear when Dads were dads and men were real men.
No more of this fancy pansy crap where guys get their clothes from designer racks or have expensive facials and manicured nails, they want men who can take them and be the hard loving guy that they see in those old movies where the guy throws his woman over his shoulders and struts off into the sunset.
Well, I say it's about time! I for one am glad all the hoopla over the sensitive male has come to an end. Where men have been so feminized that you can't tell where a man begins and sissy comes into play. We have been so conditioned to think that men should be more feeling and more like women that guys have lost touch with who they are and now young men don't know how to behave when it come to the dating scene.
Should they be the sensitive good guy, or the bad boy tough guy? What do women want has long been our cry, and now they are telling us to shove the sweet nicy nice image and be the men we always wanted to be. The tough and self centered macho bastard that can protect and save them from a world gone mad. The guy who won't take sitting around listening to soft music watching chick flicks with tears in their eyes. They finally realize they want real men.
While the term to me is silly and may need rethinking, I think it is about time men stopped acting like girls and just be themselves with all the blemishes and belches that we've been known for through the ages. Time to stop trying to be in touch with the feminine side and let loose the machismo. Women want it, they appreciate it and now they're asking for its return. Guess they're tired of trying to figure out who's gay and who's just a soft so called Metrosexual guy.
I was never comfortable with that term as I know I like to dress well and have from time to time enjoyed the infrequent facial or manicure (usually I do it myself) but it had gotten to the point recently where any guy who looked and dressed well was considered a meterosexual and the line was getting blurred on who was metro and who was homo.
Thank goodness the world has realized that men just want to be men and if a guy wants to look good, it's probably just because of some woman! As for me, let's just be guys and leave all these terms to the losers that don't know who they are. I'm a man and I love being one. That's all, and that's it.



A New Way of Thinking
and a
Better Method for LiFe
by
Bobby Fleeks
MAXIMUM ATTITUDE ATA
Do you wish that things would go your way?
Would you like to achieve all that you hope for in life?
Do little problems bother you?
Do you have an addiction problem and can't find a way out?
Does everything in your life seem to go wrong?
Are you always asking yourself, why me?
Then stop. Look at yourself.
Maybe you should ask, could it be my attitude?
If you said yes to any of those questions, it could be messed up, but you have found the solution and the beginning of making it right!
You don't have to live life the way someone else says you should. You have it with-in yourself, to change you. To be the person you have always wanted to be, and to be effective in your actions with others.
But first …
you must know, that you are not alone in your thinking!
Know that …
From the time we are children, our minds have been programmed to be the way they are today. Our parents first fed us the information they wanted us to believe. Then it was school, and the relationships we developed there. Next, there were interactions with our peers as we grew, and suddenly, relationships, created a whole new environment for wrong thinking to prosper.
Creating new behavior patterns are not as difficult as one might believe. The only reason we feel, think, and act the way we do is because we have been conditioned to do so. From birth, we are bombarded with messages, and ideas from outside of ourselves, and we begin to incorporate those outside thoughts and beliefs into our own mind set, until they become our thoughts…our way of thinking.
If you think you are no good, it is because someone, somewhere has told you that you are no good.
If you think that you will not accomplish anything in life, it is because some teacher, or important person in your life gave you that erroneous miss-truth.
If you feel that all around you are against you, then some where you have encountered people that felt that way, and you adapted that way of thinking, however subconsciously, about outside forces, to your own feelings about the world.
You can change all these wrong precepts of yourself, and the way you feel about yourself. It is very simple, and when you think about it, you will wonder why you never thought about it before. There is no secret really. It's all about attitude.
CHANGING YOUR ATTITUDE CAN, AND WILL CHANGE YOUR LIFE!
Change Your Perceptions Now!
Develope YOUR
MAXIMUM ATTITUDE Today!
write to: writeprofessional@excite.com
to Purchase Audio Tapes